Pierre Ferracci looks ahead to the new season
Continuation of the interview with Paris FC Chairman Pierre Ferracci before the start of the new season. In this second part, Pierre Ferracci looks ahead to the coming season, the mercato and the club's ambitions.

D1 Arkema
We're going to look ahead to the 2023/2024 season and make way first and foremost for our women's team. There's been some astute recruitment by Paris FC. What are your expectations of this women's team?
Pierre Ferracci: "Well, our first ambition is to try and get back to third place, as we've done for the last two years, because once again it opens the doors to at least the preliminary round of the Champions League. It's a bit of a tricky draw with Arsenal, and there's only one team that'll make it out of the preliminary round.
The English championship has made enormous progress over the last few years. I think we've recruited intelligently, and Coach Soubeyrand is happy. But after that, it's on the pitch that we'll get the results. But we've kept the main part of the backbone and we've started to make some good signings from Reims and Bordeaux, as well as looking a little more internationally. French football is up against some very tough competitors, and there are some excellent players in other countries who aspire to play in leagues that are perhaps more competitive than their own.
I think we'll have a great team. If I had to make a wish, it would be that we get a little closer to the top two and possibly take advantage of a sporting accident. Of course, I wouldn't wish anything bad on PSG or Olympique Lyonnais, but I'd like us to get a little closer to them, especially as there will be a playoff system at the end of the year which will open the way a little more for the third and fourth-placed teams to go and annoy the top two. If we could already be in the top four, hopefully third like last year and the year before, that would be great".
Sandrine Soubeyrand
As you said in your introduction, Sandrine Soubeyrand is doing a remarkable job with her staff. And then there was the extension of her contract to 2026. Is it also important to create the right conditions for Sandrine to continue her work?
Pierre Ferracci: "When you're very happy with both what the players are doing and what the staff is doing under Sandrine's leadership, well, we do everything we can to keep the person at the head of this edifice. Sandrine is someone we're very attached to.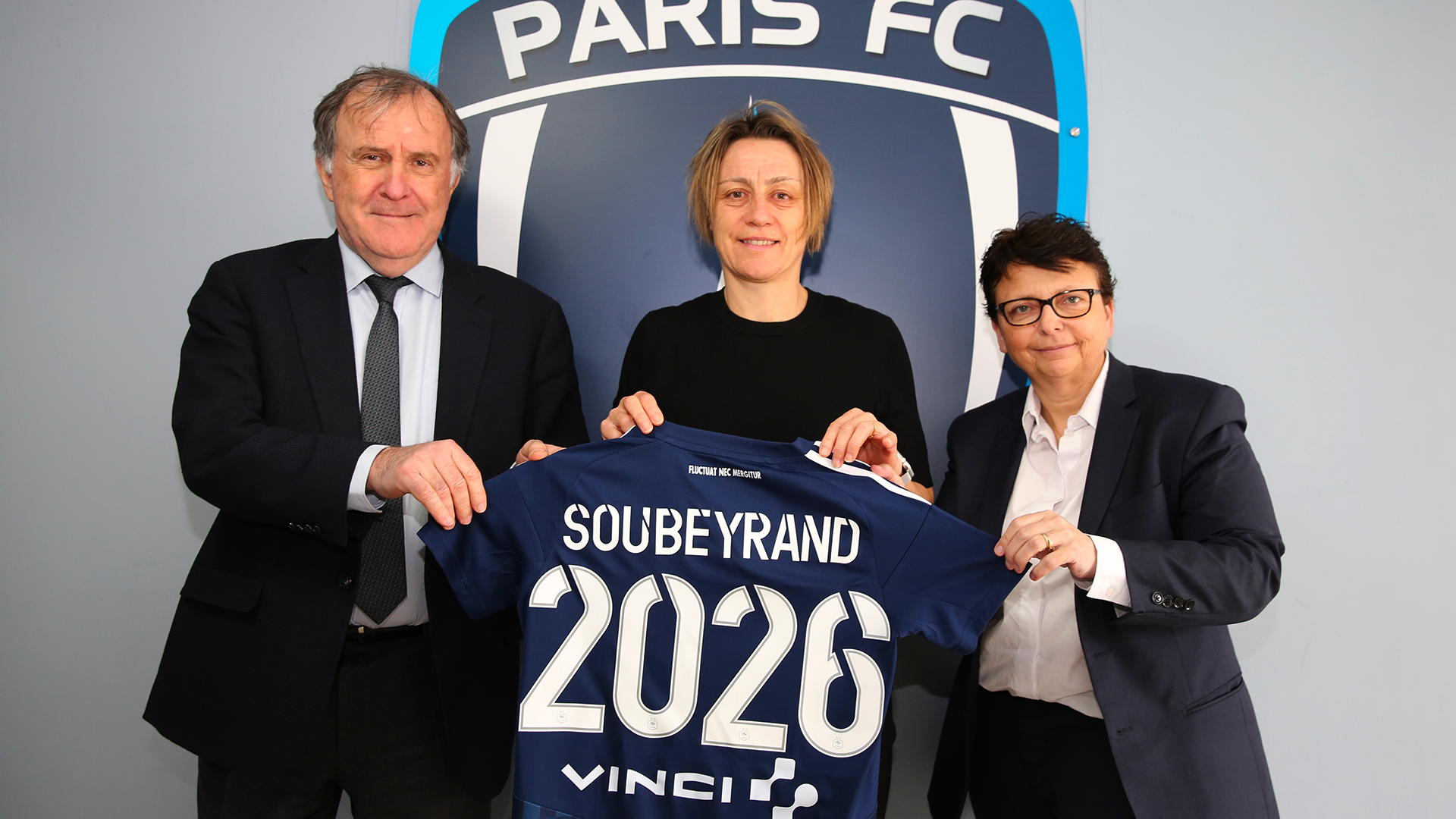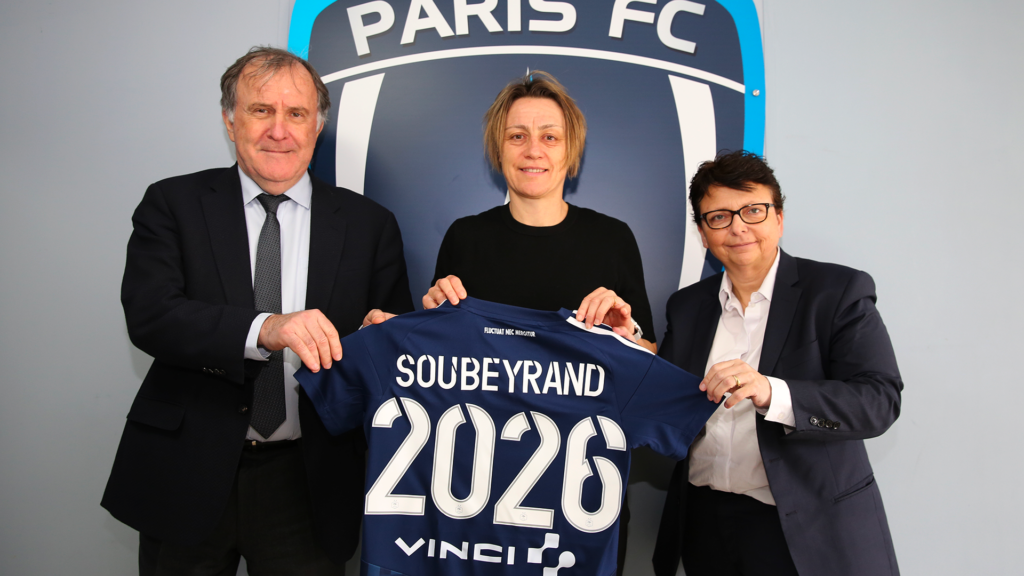 So, we did it with a lot of pleasure and determination. And then there was the other challenge of the women's section. We've been selected as one of the ten teams to launch their women's training center, and that's a big task too, because there are a lot of requirements, and a considerable budget that has been allocated to this project. This will enable us to move forward, and it's part of the impetus being given to women's professional football, and we're part of it. I think we've got our place.
Between the performances of the first team and the quality of our young girls, who are often in the French National teams, and relatively massively so. Then, from time to time, rival often look our way, but that's part of the game.  So, between the training center we're involved in and the quality of the first team and Sandrine's work, we're going to continue to move forward, but it's already a very, very great satisfaction, and it's very good for the club's image and communication.
It's not the same economic stakes as the men's team, but in any case, we've got the project within the club, it's something equivalent to the men's as I keep saying. And we're going to keep working in that direction to stay at the top of women's football. One day we'll be able to reach new heights, and maybe this season we'll go one step further towards the Champions League. In any case, we're going to try to do it, and I think they'll do it with a lot of heart and determination".
Academy
We're going to talk about the youngsters now, and what are the big projects for the 2023/2024 season. In our training centers (men's and women's), but also among our youngest with the pre-training program, which had a few setbacks last season.
Pierre Ferracci: "Building a football club is never a smooth process. There are the D1 and Ligue 2 first teams, but there are also all the foundations behind them, with what we do with youngsters from the earliest age, at the football academy, then in pre-training and now at the training center.
We're trying to consolidate our system, which is already performing well as a high-level educator. We're recruiting now, and we must make up for Jean-Marc Nobilo's departure. What I was saying earlier is that they're there to train future professionals, knowing that not everyone will be one, so we also need to train young men and women to face civilian life outside football. So academic success is just as important as sporting success. At the baccalaureate this year, we had great, and the parents of young people know that not everyone will be a professional tomorrow, neither the girls nor the boys. We have to prepare them to continue to play football in a more playful way, or at an amateur level, but also to build their professional future in a different way. We're going to continue to perform on the sporting front, but also to support the social life and future professional life of our young men and women".
Men's team
Let's return to our men's first team, with the departure of Thierry Laurey and the arrival of Stéphane Gili. Lots of arrivals and lots of departures. What's your take on this summer?
Pierre Ferracci:  "Thierry has come to the end of his contract, and we haven't continued with him, but again I siad he's done a great job for the club. We're trying to maintain a certain continuity with the recent past, since Stéphane was Mécha Baždarević's assistant. The two of them managed to take the team to fourth place, as we did the year before. Well, Stéphane graduated. He'd been itching to take on his first responsibility for a long time. He knows the club well, the management team, some of the players, and he's also familiar with the club's culture and way of working. We're very happy with what's happening today. After that, it's the results that will tell whether we've made the right choice, but I'm convinced we have.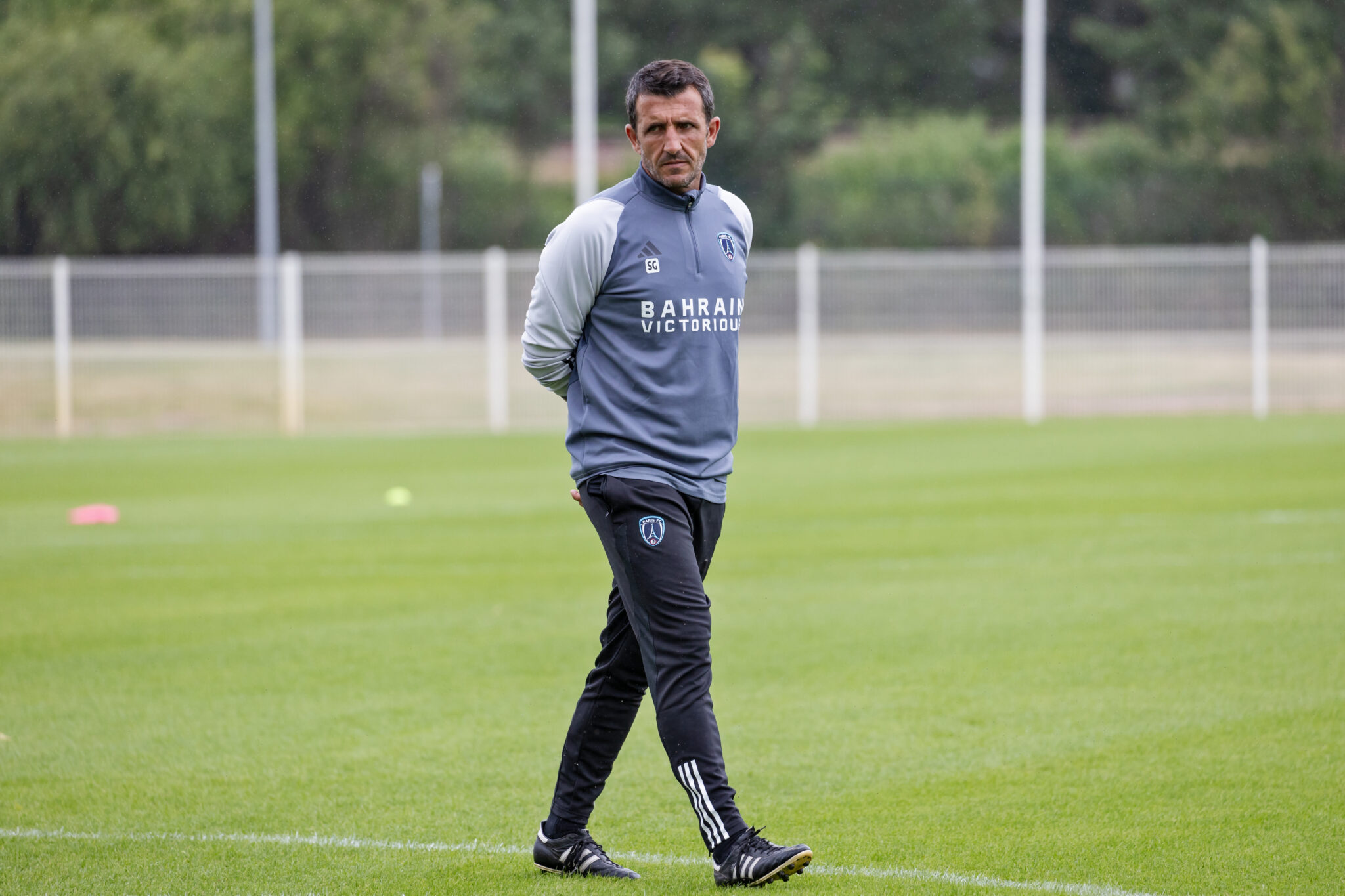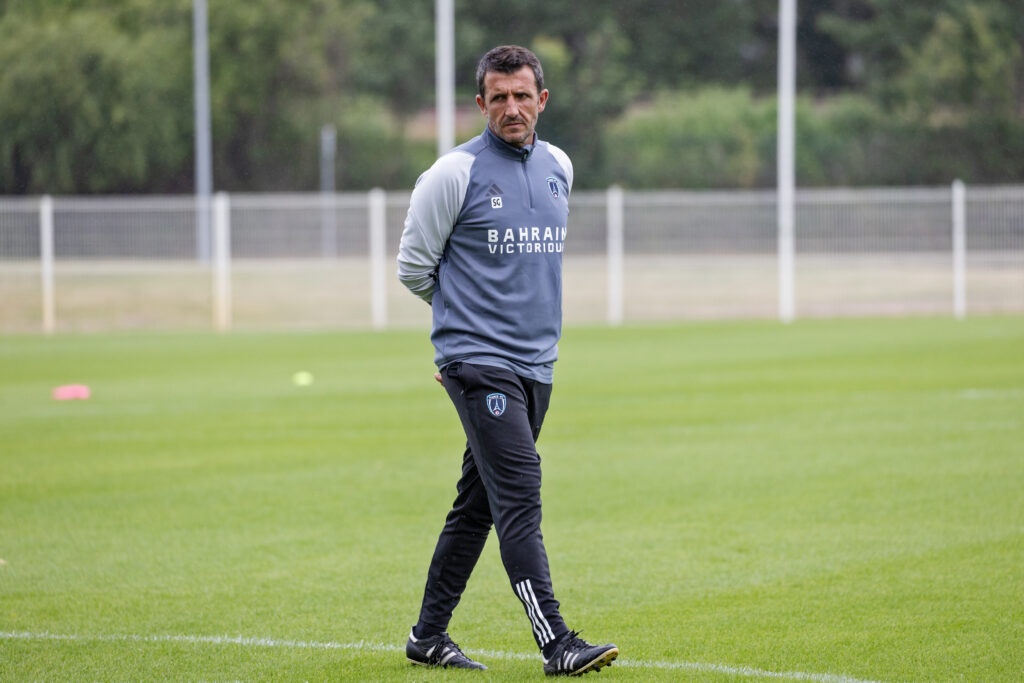 And then, with him, we're building a team that's a little more in tune with the Club's fundamentals. First of all, it's a lot of determination, a lot of desire, a lot of passion, I think we lack a bit of it last year. And once again, it's a collective responsibility.  Well, we need to rediscover our commitment and that high-level mentality which means we can't perform if it's not there. Beyond technical skills, of course, you need to be a good footballer first and foremost, but you also need maturity and the desire to excel. Because otherwise you can't reach the grail that is Ligue 1.
Today, we attach a great deal of importance to these characteristics in the choices we make. Five players have already joined us. I think everyone applauded the effort we made to keep Ilan Kebbal.
I'd like to take this opportunity to say I'm sorry, but he probably won't be playing in the first two league games because he has a minor injury. Not very serious, but with Samir Chergui that makes two absences that aren't very pleasant, but the team has the resources to do just as well without them as with them.
That's how you build a team worthy of the name. I'd also like to take this opportunity to say that going all the way through a difficult season means performing well at every level. On the pitch, of course, but also in terms of sports and medical staff. We can't let injuries get in the way. I know Stéphane is very attentive to this. We need to work collectively, intelligently, and rationally, and when little things go wrong, we need to be able to question ourselves and move forward. To invest in more ambitious technical and technological resources – that's what the club is doing, and what the club will continue to do. From that point onwards, we're recruiting, and I think we've already got a good five people joining us. There will be another five or six by the end of August, probably two or three fairly quickly before the start of the championship.
After that, we'll have to wait and see what happens in August, because the market is pretty flat at the moment, and nothing is moving compared to previous seasons. Perhaps because there's a desire to obtain remuneration and transfers that are a little above the norm expected by football today,and football isn't doing well in France right now. I hope it won't be disrupted by the audiovisual rights tender due to be launched in October. If we do it without a few Ligue 1 stars, it will be more complicated than if they were there. So, the exchanges between clubs will change between now and the end of August. We're going to reserve the possibility of having one or two cartridges between now and the end of the transfer window, in order to put together the most competitive team possible. The objective is simple: to have a team that performs better than last year in every aspect, technically, physically, tactically and, above all, mentally.
And then to put our trust in a staff that Stéphane knows well, some were with him along with Mécha, two others with the Moroccan team, and then I think Vincent (Demarconnay), who is joining the staff now, knows Stéphane well and Stéphan knows him well. So, there's already a coherent group of staff with interesting collective practices. I trust them, and I think we're in for a great season. After that, as in any season, there will be ups and downs. That's why it bothers me a bit that Samir and Ilan won't be here, but we know that there will be absentees. In turn, there will be absences, either because of too many cards, or because of injuries, even if the medical staff is attentive to this. With a team like this, with a quality squad, I'm convinced we'll have a good season, and even a very good one. In any case, that's our ambition".
With just a few days to go before the start of the Ligue 2 season, what are your overall ambitions?
Pierre Ferracci : "The ambition of the men's first team is to be in the top five at least for the playoffs, to get used to them. I'd like us to get used to winning them if we take part. And then in the top five there are two places that are more interesting than the others. So after that, it's going to be a tough battle, so there's no point in gloating either. First of all, there's Bordeaux Saint-Étienne, who have huge resources, and then teams like Caen and Guingamp, who had a good season last year and were just ahead of us.
Then, as always, there will be a few surprises, and then the four teams coming down from Ligue 1. But maybe one or two of them will also be in the mix. At least the playoffs or maybe a little better. As far as the women's team is concerned, we're getting used to third place, but that doesn't mean we can't look a little higher if there's a hope of getting past this stage. The playoff system may give us a slight advantage over previous years. The two training centers, the one that's about to be set up and the one that's already been in place for a while. The aim is to produce, in the best sense of the word, quality youngsters, so that the best of them are available to the two professional teams now that we can talk about a professional team for the women.
And then the reserve team has to find its way back to the championship which is above it. And from there, the club needs to innovate in areas other than sport itself. It needs to improve its social and societal relations with its environment. That the relationship with our supporters, whom I salute because last year they were remarkable. Even when we had our ups and downs, they were always there, especially away from home. As I said earlier, we're going to help them be there in Troyes for the four games we'll be playing at the Stade de l'Aube.
Our fans have to trust us, and we trust them. We're going to get them more involved in club life. I know they like to come and see the players from time to time, as long as they respect a few rules of the game, but I think we have confidence in them too. The players will give it back to them at the end of the games. If we can manage at some point in the season to combine the men's and women's matches, we'll do it, but after that we need to arrange the schedules accordingly, and we need the right infrastructures on the day.
Bordeaux did it last year and it was a real success, so it could give women's soccer a little more strength, and then women's soccer, in return, sends a lot of positive things back to men's soccer too. So I'd really like us to do something like that. That's it, and then in terms of ambitions, perhaps in the recruitment process that's due to be completed on the men's side before the end of August, there'll be a pleasant surprise for the fans. Maybe we'll have to wait a little, but they've already got a nice surprise with Kebbal's retention, because I don't think anyone really expected that, and there may be another one that will ensure that the dynamic is as effective as possible to get the season off to a good start and, above all, to see it through to the end and finish well".