Second success for the French U19 team
After their 3-0 win against Denmark, the French U19 team won their second match (2-1) against Norway this afternoon in an international friendly tournament in Spain. Chloé Neller and Airine Fontaine were in the starting line-up while Lena Borgès and Louna Ribadeira came on.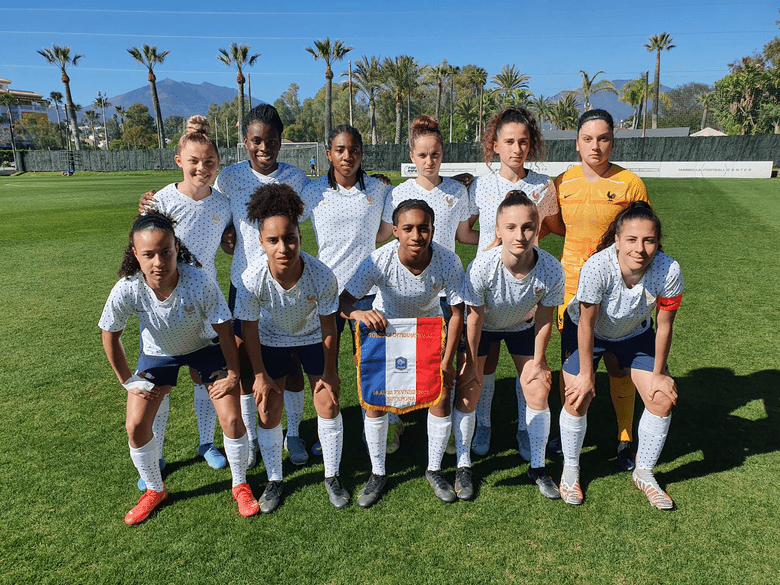 Two days after the victory (3-0) against the Danes, Sandrine Ringer's players challenged Norway this Tuesday. A match that ended in a victory for the French (2-1).
After being down 0-1 in the first few minutes, Pauline Haugou put the two teams back on level terms (1-1, 21st). It was not until the final moments of regulation time that the Bleuettes took the lead over their opponents. Océane Hurtre scored from the penalty spot (2-1, 89th) to secure the French victory.
This is the fifth win in a row after a clean sweep in the first qualifying round last autumn (2-0 against Serbia, 2-0 against Iceland and 1-0 against Sweden).
In April, Les Bleuettes will start the second qualifying round for the European Women's U19 Championship (27 June – 9 July) in the Czech Republic. France will face the host country of the finals, the Republic of Ireland and Greece. In order to qualify, France will have to finish first in the group or better second if the Czech Republic finish first.
Sandrine Ringler, coach of the French women's U19 team (via fff.fr): "We are very happy with the result. Today's match presented an extra level of difficulty. We knew that the level of play would be higher. But the team responded as it should on the pitch. We were down against the run of play, but the players responded well and we got the win. The twenty players selected showed great commitment and that bodes well for the upcoming matches."
Informations
FRANCE – NORVÈGE : 2-1 (1-1)
Goals. Norvège : Rastocle (csc, 8e). France : Haugou (21e), Hurtré (89e sp)
France : Francart, Kassi (cap.), Lejeune, Rastocle, Fontaine, Baga, Diaz (Traoré 55e), Neller (Ribadeira 70e), Bamenga (Kbida 55e), Haugou (Borges 75e), Hurtré. Entr.: Sandrine Ringler